A Perfect Solution, No Matter How You Look at It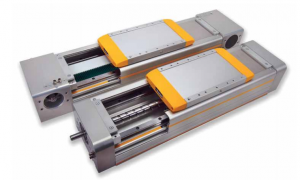 Much of the success of Richard Greene's recent solution for an expanding client's floor space problem was due to the flexibility, mounting options, and reliability of the linear actuator we used: the ORIGA HMR. Parker Hannifin's new electromechanical linear actuator series offers the convenience of a complete drive package with a linear actuator, gear, and motor in a single-system solution.
The flexibility in mounting options is what made Parker's linear actuator the perfect solution for our client. The actuator offers three types of drives, and all of them can be installed either horizontally or vertically. Without room to house additional equipment, our client was stuck.
But by reconfiguring horizontal lathes to a vertical configuration, we were able to help this client reduce the amount of floor space needed for a critical application from 15 feet of linear space to only 3 feet of linear space.
[sidebar]To learn more about Parker and its products, check out the company's website.
Looking for more ideas? Read about other helpful solutions below.[/sidebar]
It's not only the space-saving mounting options that make the ORIGA HMR series stand out among other actuators. It offers a range of fully integrated options such as proximity detection for limit positions and reference, position sensors, brake systems, and impact protection. Parker also provides retrofit covers for IP54 protection classification.
Noise is a big deal in manufacturing environments. The HMR series offers high quality and externally accessible nipples for convenient, centralized lubrication that make the equipment quieter than other linear actuator options. The actuator also provides
Screw or toothed-belt drive options
Three drive concepts to address all applications that require speed-optimized movement of medium to large masses
Highly accurate positioning via its integrated, adjustable-position switch for end positions and homing
Impact protection via its integrated shock absorbers on both end positions
Richard Greene handles only the highest quality products. The flexibility, accuracy, reliability, and safety of Parker's ORIGA HMR linear actuator make it a solution we are proud to offer to our manufacturing customers.
[cta]Learn more about the outstanding products that we represent. Contact the experts at Richard Greene Company by phone at 800-525-4039, by email at sales@rgreene.com, or on our website.[/cta]
Customers looking for the Parker ORIGA HMR series also liked these products: