Work Safer with Electrical Systems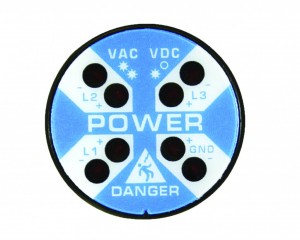 In any manufacturing or mechanical environment, safety is top priority — and electrical safety is a special area of concern. Along with continuous safety training, manufacturers use safety guarding, motion detection, gating, and other safety solutions to ensure workers can perform duties safely around equipment.
Manufacturers are always looking for additional tools and methods to provide a safe environment for workers. The GracePort Safeside voltage indicator is a simple, reliable solution that offers an extra measure of assurance.
High voltage hazards
When workers need to work in areas where high voltage is present, safety hazards are everywhere: multiple power sources in an area, closed electrical cabinets requiring manual verification that the power is off, and indicators that deliver false information when power is still flowing.
But there's a simple solution: Install Permanent Electrical Safety Devices (PESDs). PSEDs are external indicators that provide reliable verification of whether power is turned off without exposing workers to electrical hazards.
PESDs are permanently mounted to electrical systems to provide voltage verification without exposing personnel to voltage hazards. They are intended to be used as part of an organization's lock-out tag-out (LOTO) procedure, which ensures that machines are properly shut off before performing maintenance on them. PESDs
increase safety by allowing workers to determine whether voltage is present through the door without exposure to electricity
increase productivity because a worker does not have to work in tandem with an electrician with a voltmeter to verify whether voltage is present
reduce the potential for arc flash by allowing a worker to pre-check the voltage state without opening the enclosure
GracePort Safeside thru-door voltage indicator
There is no way to completely eliminate the risk that every electrical system poses, but you CAN reduce that risk. The GracePort Safeside R-3W2 one-size-fits-all multi-environment thru-door voltage indicator certainly reduces that risk.
The indicators create safer work conditions by providing a way to check for a zero voltage state inside an electrical panel without opening that panel and reducing the need for using a voltmeter to test potentially live wires. They also reduce the lost productivity that occurs when personnel have to stop work and don personal protective equipment to ensure a no voltage state.
The Safeside voltage indicator provides over-current protection that will vaporize the lead wire causing limited damage to the electrical enclosure. The integral, potted, 18AWG UL-listed, 1000V-rated lead wires will not vibrate loose causing a short circuit to ground. And because the failure mode of the voltage indicator is 3.7mA, these wires shouldn't fail even in the case of a device failure.
The voltage indicator has the option for a bezel-mount installation for a near-flush look. The encapsulated construction, redundant circuit design, and CAT IV rating mean rugged reliability.
The Safeside R-3W2 is a simple addition to your LOTO process but a big deal for reducing the risk in your manufacturing environment. Call us today to get the added assurance that a GracePort Safeside voltage indicator offers.
[cta]To learn about the variety of safety options available, view our line card. Contact the experts at Richard Greene Company by phone at 800-525-4039, by email at sales@rgreene.com, or on our website to find out more about the solutions that are right for your operations.[/cta]