Are Your Routers and Switches Ready for Business Continuity?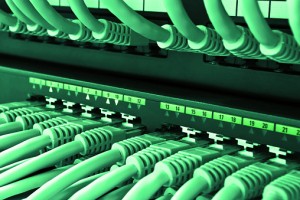 For disaster preparedness, there's no time like the present to put a plan in place. It's a good time to review business continuity plans and prepare policies and procedures for dealing with disaster. If this brings to mind all the big things that can affect your operations — storms, fires, floods, and so on — that's understandable. On the other hand, sometimes it's the little things that can bring your business to its knees.
For example, a router or switch that goes down without warning can spell disaster for your service level agreements (SLAs), at the very least. That's one reason why the Richard Greene Company is proud to represent Red Lion switches and routers. These devices are made for industrial environments — and ready for just about anything.
Red Lion's N-Tron® series NT24k™ Gigabit managed industrial Ethernet switches, in rackmount or DIN-rail mountable configurations, are great products for those who want to keep things running smoothly. This plug-and-play platform supports numerous port configurations, media types, and Power over Ethernet Plus (PoE+) models, and is a snap to deploy.
Best of all, the rugged, hardened enclosures offer extended shock and vibration specifications, operating-temperature ratings (minus 40 to 85 C), and best-in-class ring technology — perfect for even the most demanding or hazardous conditions. The result is uncompromising performance in harsh environments, with best-in-class security and uptime performance.
Similarly, Red Lion's Sixnet® IndustrialPro® SN-6000 series cellular routers offer secure and reliable remote connectivity to deployed assets via cellular carrier networks. These rugged industrial routers are also ideal for harsh environments.
It's important now and always to be sure you're prepared for the worst — but don't forget to be prepared for the everyday challenges, too!
Contact the experts at Richard Greene Company by phone at 800-525-4039, by email at sales@rgreene.com, or on our website for more information.