Multiple Safety Guarding Solutions in a Small Package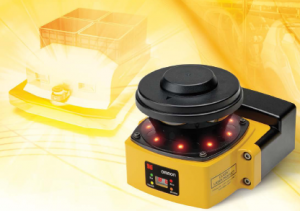 Scanner and sensor technology has become increasingly sophisticated. Better still, all these features don't need to take up a lot of space. Omron's OS32C Safety Laser Area Scanner is a great example of how a small scanner can provide a ton of functionality for safety guarding, intrusion detection, and collision avoidance applications. At just 104.5 by 133 by 142.7 millimeters, this tiny scanner is tough to beat.
This compact, versatile, battery-powered Type 3 safety laser scanner is easy to install, handle, and maintain. With a small form factor — and low power consumption — it's perfect for small spaces such as automated guided vehicles. Plus, its collision-avoidance and presence- and intrusion-detection capabilities belie its small size.
The OS32C's 270-degree detection angle provides two-sided coverage while time-of-flight measurement determines distance. The scanner emits a laser pulse that is reflected upon contact with an object, alerting the scanner to the object's distance and position relative to the safety zone.
You can use the scanner's intrusion detection through an entrance without physically blocking that entrance. You can switch set zones to support multiple operation patterns with 70 sets of zone combinations, a safety radius of up to 3 meters and a warning radius of up to 10 meters, eight individual sector indicators, LED indications, and reference boundary monitoring to prevent unauthorized changes in position.
Connect to the scanner with a PC (via EtherNet IP) to configure safety and warning zones in real time, or create and modify settings offline. You can set response times of 80 milliseconds to 680 milliseconds, and configuration and maintenance are fast and simple.
This little scanner truly proves that good things come in small packages!
Learn more about the outstanding products we represent. Contact the experts at Richard Greene Company by phone at 800-525-4039, by email at sales@rgreene.com, or on our website.
Customers looking for the Omron Safety Laser Scanner also liked these products: